Gautam Needs You :D Lol
Col Chikara
He may be dangerous, but has a silly name. Played by Rami Reddy, Colonel Chikara is the evil villain in Waqt Hamara Hai. He also repeats himself. A lot. "I am a king without a kingdom. Chikara samrat hai, par uske paas samrajya nahin hai… Samrajya haasil karne ke liye mujhe chahiye Krypton bomb. Krypton bomb. Krypton bomb woh takat hai jisse duniya ki koi takat takra nahin sakti."
Col. Chikara
Bulla
A man with a sword stuck in his stomach is running. This man is determined to live, and perhaps he will. But then he meets his boss who says, "Mera naam hai Bulla, rakhta hoon main apna khulla." Unable to hear such dialogues, the man dies. Seriously with a name like Bulla we wouldn't repeat it the way he does in this film (Gunda). Bulla is ferocious to all but his brother Chutiya, who is the only one who can tell his elder brother, "Bulli, kahan hai teri ungli."
Bulla
Pralaynath Gendaswamy
People may make fun of his name behind his back, but Pralaynath Gendaswamy (Dilip Shirke) in Tirangaa knows his name exudes evil like all good villain names must. He wants to become India's supreme leader by deploying missiles. No wonder he is enraged when the hero lights a pipe near his missiles. He throws it away only to discover it to be a smoke bomb. And all his plans come undone.
Pralaynath Gendaswami
General Dong
In Tahalka General Dong (Amrish Puri) is the leader of Dongrilla, which lies between India and China. Unlike other villains who make vamps dance, Dong steps on to the dance floor himself. And he loves samosa. That's why he sings, "Shom Shom Shom Shamosa Sa." Pioneer of the human bomb, when he isn't singing and dancing, Dong is hypnotising young girls to blow themselves up.
General Dong
Tapasvi Gunjal
In Vishwatma, the main villain Azghar Jurhad makes several mistakes. And no, we aren't talking about the ones that lead to his downfall. We are talking about his son. First he names him Tapasvi Gunjal (Gulshan Grover). Then he allows him to keep a weird hairdo and colour it blonde. Not to mention the shiny suits to go with the hair. Oh, we wish the list would end here. But, no, Azghar has to go ahead and fund his son's flute classes too.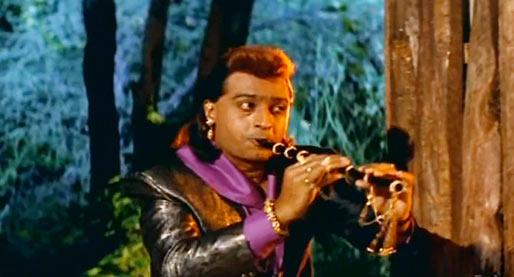 Tapasvi Gunjal
By R.Krishna